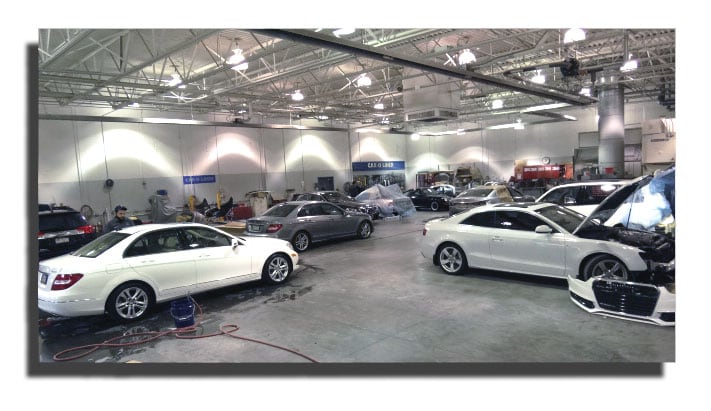 Unfortunately, accidents happen. Fortunately, we're here.
Although no one can predict if or when an accident might occur, you can be assured that Knopf Automotive Mercedes-Benz and Porsche Collision Repair Facility exists for one purpose - to ensure that your vehicle receives the safety and craftsmanship that you have come to expect. Knopf Automotive Collision Repair Facility will ensure your vehicle will be restored the right way - with Genuine Mercedes-Benz and Porsche Replacement Parts, with Mercedes-Benz and Porsche approved equipment, and with the high level of expertise you deserve.
---
 If you have experienced a recent accident or are just looking to spruce up your car's exterior by fixing some dents or dings - Knopf Automotive is here to help.  We can perform body shop repairs on any make or model.

Knopf Automotive, INC is a direct repair partner with most major insurance companies.
Knopf Automotive Collision Center is qualified to handle all of your Mercedes-Benz and Porsche Repairs. No matter how big or small.

 
---



John Benninger-Collision Center Manger

 

  If you are involved in an accident and the providing insurer is one of our direct repair partners, the auto insurance company then refers you to our repair facility. Our Insurance providers offer a limited lifetime warranty on the repairs to your vehicle. Because the Insurance Company and Knopf Automotive handle all the details and paperwork, you do not have to do so. Our shop also provides other services such as complete detailing and paintless dent repair.  If your insurance is not on the list - no worries.  We work with all insurance companies!
---
Our State of the Art Body Repair facility has performed repairs on thousands of vehicles since 1970.  And we are the number one choice for most insurance companies based on our expertise and quality of the work that we perform.  Furthermore, we have the ability to do auto body repair any Make or Model of vehicle so if your Mercedes-Benz or Porsche is still in pristine condition but you need work on another vehicle in your garage- stop by and let us provide you with a free estimate.